JJC Sustainability Summit
Just a reminder, today—Monday, April 6th—is the last day to register for an exciting opportunity to attend a life changing event!
JJC is hosting the fourth annual Student Sustainability Summit at its main campus on April 10.
This event is part of the South Metropolitan Higher Education Consortium's push for "new and enhanced educational services and programs to citizens, businesses and other institutions in the Chicago metropolitan southland region."
SMHEC is an association of 12 higher education establishments throughout the south Chicagoland region and beyond, from community colleges to private universities. SMHEC's main focus is the promotion of college preparation, educational opportunities and discerning cost saving methods in certain economies.
Through events like this, SMHEC hopes to educate the public on techniques everyone can use to make our communities sustainable. Sustainability is defined as "human and ecological health, social justice, secure livelihoods, and a better world for all generations," by the Association for the Advancement of Sustainability in Higher Education.
The summit will last from 8:30am to 3:00pm and will consist of speeches, presentations and one-on-one meetings with professionals in sustainability fields. Breakfast and lunch will be served.
Those wishing to take part in this function who are not attending one of the 12 schools in the consortium will have to pay a $15 fee. Registration can be done on SMHEC's website. www.SouthMetroEd.org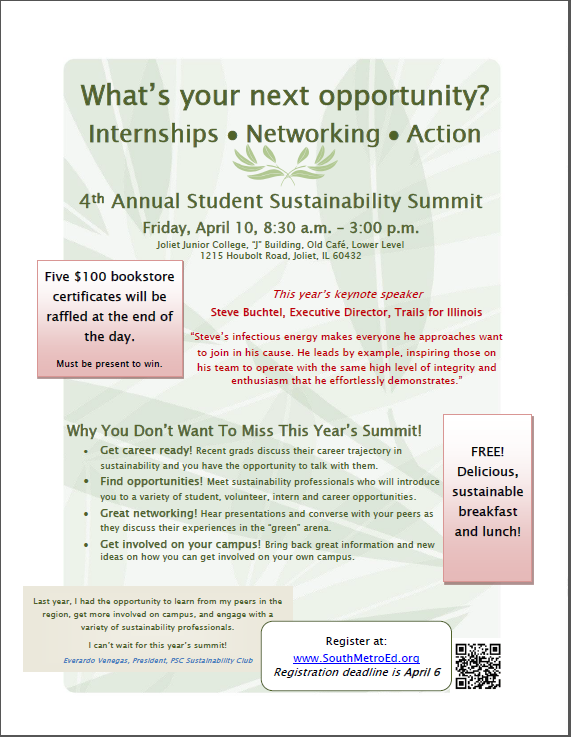 Latest posts by Andrew Hanton
(see all)