JJC recognizes Veterans Day with ceremony on bridge
This Saturday will mark the 99th anniversary of the end of World War I. It will also be the 79th time that Veterans Day is honored as a national holiday.
Every Nov. 11, people all around the country honor those who fought, or continue to fight in the military.
Every year since its inception, Veterans Day has grown in scope, as the number of American wars has increased.
The JJC community did their part to honor Veterans Day on Nov. 9 with a ceremony on the bridge.
The ceremony began at 12:30 p.m., as Student Activities Director Pam Dilday and VP of Academic Affairs Randy Fletcher welcomed the attendees.
Also involved in the ceremony were members of the Abraham Lincoln National Cemetery Memorial Squad, who presented the colors and demonstrated parts of a traditional funeral ceremony for a fallen soldier.
Members of the JJC Choir, directed by Philip Spencer, performed the national anthem with the help of the audience.
They also closed out the ceremony with a performance of the song "Blades of Grass and Pure White Stones" with some instrumental accompaniment.
After the ceremony ended, the audience was served free snacks and refreshments.
JJC student Vicky Nyder attended the ceremony, along with numerous students, faculty and community members.
"The traditional part of it was very cool to see," Nyder said. "I don't usually see many military events."
Part of the ceremony involved a flag unfolding and folding by members of the Memorial Squad.
"Seeing the whole process laid out was very cool," Nyder said.
In recognition of Veterans Day, there will be no classes for JJC on Friday, Nov. 10.
Photos from the ceremony can be viewed below.
The Ceremony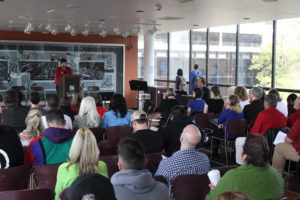 Pam Dilday addresses the audience from the podium.
Randy Fletcher officially opens the ceremony.
The audience sings the national anthem, with Philip Spencer on piano.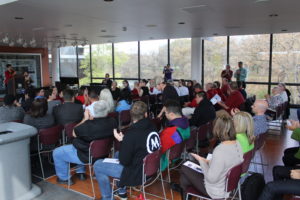 Dilday thanks the audience before closing the ceremony and directing them to the refreshments.
The Memorial Squad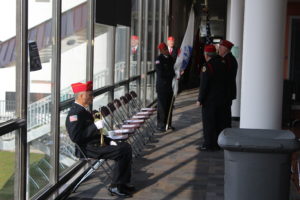 Members of the Memorial Squad prepare for the ceremony.
Two members in the process of unfolding the flag.
The flag is presented to the audience in the "tabletop" step of the ceremonial unfolding.
The re-folded flag is shown to the audience.
Choir Performance
Spencer (standing left) introduces the choir as they set up on the stage.
Musicians accompany the choir during their performance.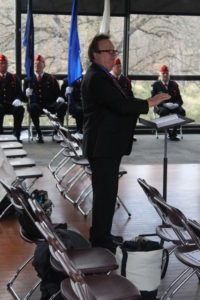 Spencer conducts the choir.
Spencer thanks the crowd after the performance.
Patriotic Snacks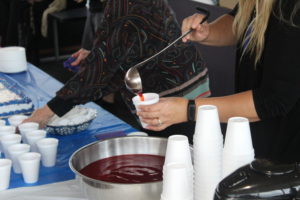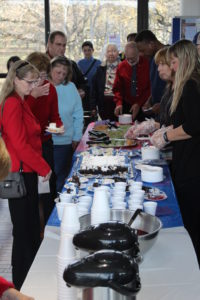 All photos by Adam Tumino.
Latest posts by Adam Tumino (see all)