Clubs Unite for Mental Health
Though the club is called Press Pause, there is no stopping them in getting their message heard.
Press Pause hosted a Mental Health Awareness Day on Feb. 28 from 10:00 a.m. to 1:00 p.m. Located on the Bridge, the club had tables set up where other clubs and college and public resources were displayed.
Members of the organizations were also there to explain what services they provide.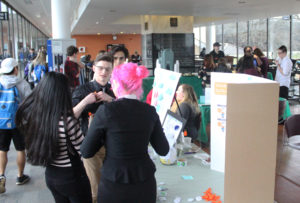 "We wanted to bring awareness to mental illness, provide resources for our students, and provide a safe zone for them," Nathalia Chavez, a member of Press Pause, explained.
She added that the club wants to "bring to light mental illness is as serious as a physical illness and it's not just something you can get over."
The clubs and services present ranged from Latinos Unidos to counseling services. Latinos Unidos joined in to help bring awareness that mental health is an issue that many face.
JJC's counseling services also made students aware that they are able to have up to five counseling sessions with one of their many counselors.
There were also public resources represented, specifically the Crisis Line for Will and Grundy Counties and National Alliance on Mental Illness (NAMI).
The representative of the Crisis Line highlighted the services they provide go beyond crisis intervention. Some of the services are check-in calls throughout the day or if seeking to talk to an unbiased listener, one is welcomed to call.
Additionally, NAMI is a solution-oriented support group for those diagnosed with a mental illness and for the individual's family members.
In addition to having various services and clubs present, the Press Pause club hosted a panel interview of students and professionals who have experience with mental illness.
The student panel was the first to answer questions presented by the hosts.
Questions consisted of asking what event has had an impact on your mental health. What was the student's darkest time and how they overcome that dark time, while also asking what they would ways do they take care of their mental health and what advice they have for others.
Altogether, the answers to this last question consisted of finding activities they enjoy doing or everyday things they can find joy in, such as singing in the car or going on a walk.
The students who made up the panel were candid with their answers and it was evident that the audience appreciated their openness in discussing the subject of mental health.
Then a representative from the resources and organizations available on campus made up the panel of professionals interviewed in the second portion of the presentation.
The host asked questions as to what way do the professionals come into contact with mental health and how do their jobs affect their own mental health. Answers to these questions varied among those interviewed.
But what was common among them was that there had to be self-awareness, making sure that they were healthy so that they can provide the best service they can while also maintaining good mental health.
Seeing and hearing students and professionals talk about mental health showed the audience that no matter how alone one feels, they are not alone and the best thing to do is to just talk.
Talk to someone, to just let it out and find positive support systems that work for the individual. And Press Pause can be a healthy support system for students.
"The biggest difference I see and what makes it worth it for me, is to see people grow out of their shell and become these amazing people," said Hattie Wren, the founder of Press Pause..
At the conclusion of the presentation, the viewers walked away with the understanding that while everyone has to take care of their physical health, mental health is also an important part of life.
While mental health is a personal matter, we are all individuals at the end of the day- individuals make up a community. And to have a healthy community, it starts with the individuals being healthy.
It is worth the effort to practice self-care, to reach out when one needs to. Because at the end of the day, whatever label or feeling one has, you matter and you are not alone.
Latest posts by Joseph Crump
(see all)