Students engaged in yard games and dunked teachers in this semesters annual Welcome Week.
This year's Welcome Week was on Aug. 22 and Aug. 23 from 11am-2pm on both days.
Pam Dilday, Director of Student Activities, gave us some insight as to what Welcome Week usually entails and how it applies to students.
"Welcome Week is our opportunity to welcome back students who have been here before and also to welcome new students and just provide fun activities to commemorate the first week of classes." Dilday says students should go to this event because it's a great way to meet new people, be welcomed to campus in a fun way, and comically she says to go because you "already pay a student activity fee."
This year, multiple events went on. Singer Angie Keilhauer performed live music Wednesday while students were able to make Tie-Dye shirts, have fun on the inflatable games, checked out the old Cronin Schoolhouse, and enjoyed free food. On Thursday, students enjoyed music from beat-boxer Sung Beats, created a critter, had their caricatures drawn, and enjoyed more free food.
One of the biggest events this year was the Pitch Burst being hosted by Student Government. Students would throw at a target and it would drop a water balloon on one of the multiple faculty and staff members used as targets.
Director of Facilities Patrick Van Duyne, Campus Police Chief Peter Comanda, Fine Arts faculty member Jeff LaRocque, Employer Relations Coordinator Lindsay Cullen, VP of Administrative Services Rob Galick and Department chair for Fine Arts Lori Schahrer all participated as willing guinea pigs in the event this year. All proceeds from this event went to charity.
Welcome Week has been a tradition since forever it seems, and it only seems to be getting better! Welcome to Welcome Week everyone, and good luck on this upcoming school year!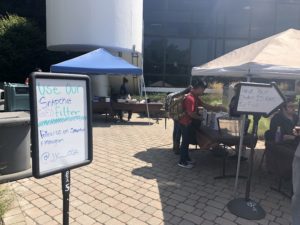 Jessica took the role of Co-Editor along with Sean O'Dell in fall 2018. She is planning to graduate in spring of 2019 and transfer to Depaul University where she plans to major in English.

Jessica has always had a love for writing and editing.
Latest posts by Jessica Mack (see all)