Bath design cleans up for award
This year, JJC's Interior Design program won an Excellence in Education from the six available from the National Kitchen and Bath Association (NKBA) out of roughly 300 entries.
The NKBA is a non-profit organization dedicated to promoting professionalism in the kitchen and bath industry, and has since expanded into an association of designers, retailers, remodelers, manufacturers, distributors, fabricators, installers and other industry professionals.
The design program is accredited by the NKBA, and each year they submit two student samples for review by the association. This year, Jenny Weidenaar and Tyler Rodgers were the two lucky students to be submitted and recognized.
Interior Design Associate Professor Oksana Alfredson says that as part of the accreditation requirements, she has to submit two students projects for NKBA to evaluate and stay within the professional requirements.
"In order to get recognition in the Educational Excellency, students' works have to be graded against 100 requirements and earn at least 90 points. Two submitted projects of the students' works were graded with a 96.5 and 94 points [respectively]."
Warren County Habitat for Humanity participated as being the real project and was assigned to all schools accredited by NKBA. This year, the assignment was to submit and present a kitchen or bath design for a Habitat for Humanity home.
Alfredson said the main challenge was a tiny budget. "Students had to design a kitchen with only $16,000 and a bathroom with $4,000."
The project was assigned to all students of the INTD 233 Advanced Kitchen and Bath class. Students must be knowledgeable of kitchen and bath designs, materials, finishes, lighting and budgeting, "but [must be able to] apply AutoCAD and AutoCAD Architecture skills for drafting and 3D rendering," says Alfredson.
She also says that students work extremely hard since this project counts towards their grade as well as their future portfolios.
The JJC Interior Design program won their first Excellence in Education from NKBA in 2014.
The same project was assigned for the NKBA Annual Students Design Competition as well, which is a different venture compared to Excellence in Education.
The JJC Interior Design Program has been a member of the NKBA since 2008 and have been fully accredited since 2009. It is a broad-based program allowing students planning to work in design to gain the necessary academic skills in order to continue later on past an associates level.
It offers multiple options for a career in designing, such as residential designing, contract designing and office planning, which are the main options students have available to them.
According to the National Council for Interior Design Qualification (NCIDQ), interior design is the art and science of understanding people's behaviors and fashions in order to create functional space. Interior designers must be able to analyze the clients needs and goals and even life safety requirements.
The Interior Design program offered at JJC offers multiple options for a career in designing. Residential designing, contract designing and office planning are the main options students have available to them.
They apply creative and realistic solutions within a space that are attractive, functional and useful to the client and their wellbeing. Designers are required to be licensed or registered and have their education and training documented.
This program is for people who are interested in interior design work: kitchen and bath design, contract work, real estate consultation, home accessorizing and so much more. If students have an artistic eye, maybe the Interior Design program is a path to investigate.
Alfredson says they will try again next spring to win again!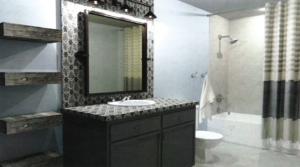 Jessica took the role of Co-Editor along with Sean O'Dell in fall 2018. She is planning to graduate in spring of 2019 and transfer to Depaul University where she plans to major in English.

Jessica has always had a love for writing and editing.
Latest posts by Jessica Mack (see all)