Angelo Tufano uses JJC to defy odds
Joliet Junior College has been helping students since the original six students back in 1901. Present day, JJC has helped one student in particular beat the odds and restrictions so many have put upon him.

"Many of us in life have been led to believe by sharing things about yourself is seen as a sign of weakness," Angelo Tufano, a first-generation college student in the Orthotics & Prosthetics Technology (OPT) department, said.

Tufano has Muscular Dystrophy and has dealt with it his entire life. But what some see as a disability, he sees simply as his way of living.

"As a child, I was a fun-loving kid with really great friends and talent," Tufano said. "Even though, because of a disease, not only was I unable to grow, but had barely any muscle, and now a heart, that did not work properly."

Muscular Dystrophy affects the neurological system in the muscle and is one of the most frequent genetic conditions. According to the CDC approximately 1 in 3,500 people, typically males, are born with the disease. The age of onset usually develops in 3 to 5-year-olds.

Despite such a distinct group of individuals suffering from Muscular Dystrophy, Tufano remembers people not always being the most understanding about his disability. Early on in his life, he never saw himself as any different than the other kids but the same couldn't be said about them.

"Although I was just a kid like everyone else, many could only see that I looked different and found ways to try and hurt me for that," Tufano said. "Names like shrimp, midget and loser were common for me to hear as well as [experiencing] physical violence."

All throughout Tufano's life, the idea of him being weaker due to this disease caused even family to undermine him.

"For some reason, people, including some in my extended blood-related family, acted as if I had no mind or that I wouldn't amount to much because my body didn't work like everyone else's," Tufano said.

After an injury to the spine and head, Tufano became completely paralyzed on the right side of his body. The left side of his body was left extremely weak. He found himself confined to a motorized wheelchair from 2010 until 2016.

Tufano described being paralyzed as "something no one wants to deal with," but his personal experience "would become the catalyst" that drove Tufano to become the award-winning athlete.

Slowly, Tufano began to work on strengthening himself with a fuzzy companion to motivate him. He started with becoming "the proud dog parent of a Tibetan terrier" who helped him to regain strength and function in parts of his body that doctors had given up hope on.

"Racing and having my pup, Santino, was the beginning of my journey to becoming my true self and finding my ability to stand once more with orthosis," Tufano said.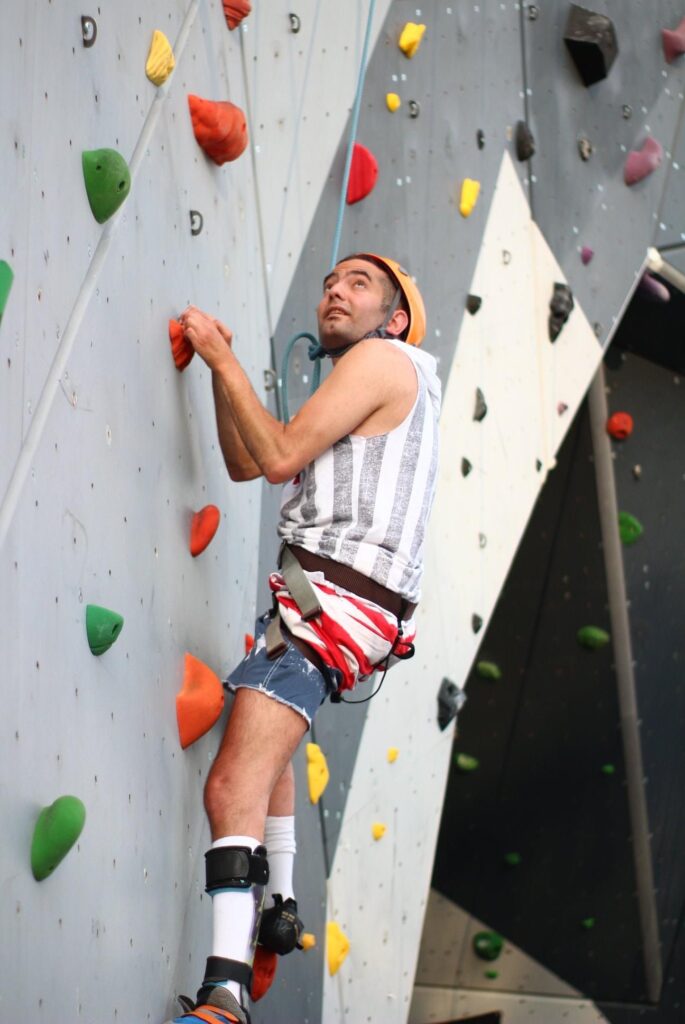 The journey to regaining his ability to stand once more did not stop Tufano from competing as an athlete. He immersed himself in the world of adaptive sports, namely rowing, triathlons and dancing.

In 2016, Tufano competed and placed first for the para division in the quad cities adaptive rowing competition as well as that Chicago river competition rowing. Since his immersion into the world of adaptive athletics, Tufano has gone on to compete in, and win, countless competitions.

"In May 2017, I took part in 'Bike the Drive' using a handcycle, completing the 30-mile challenge," Tufano said. That same year he placed first in the wheelchair division of the Chicago Tri Supersprint, the following year he placed second.

2018 was also a busy year in terms of competing. He placed first in the wheelchair division of the Wauconda triathlon, placed third in the wheelchair men's handcycle division in the Glasa 5k Twilight, and placed first for wheelchair racing in the Chicago 5k/Half Marathon.

That same year, Tufano was named ambassador for the Abilities Expo for Chicago. He performed for the 2018 expo as well as taught a dance workshop.

His career as an adaptive dancer has opened doors for opportunities in teaching, like the occasions he would teach dance for Shriners children's hospital. He also was able to perform in Momenta's ballet "Peter Pan" as the crocodile and the children's dog Nana.

"[It was] the first-time using ankle foot orthosis," Tufano reminisced on his being able to perform using leg braces.

Identifying as queer has also offered liberating opportunities to Tufano.

Despite having a past where "being punched in the chest and hands slammed into vents" as well as hiding in teachers classrooms "fearing for [his] life" was common, he has found solace in his identity.

"Even though these things happened to me," Tufano said. "It does not make me weak for the weakness falls on the others who didn't accept."

He choreographed a dance and performed it for the July 2017 disability pride parade in Chicago.

"I [learned] how to use my being queer and my disability, both differences in the world, as a strength to not only be a leader but be a force of good in the world of O&P and the college," Tufano said.

In 2019, Tufano was awarded a scholarship from the Italian American Executives of Transportation for his 4.0 GPA. This would be the first of many opportunities JJC opened to him.

JJC has helped him pursue a career in orthoptics and prosthetics, Tufano has even been elected President of the Orthotics Prosthetics Student Association.

"I truly know the pain, the suffering and the feeling of being unworthy that others can show to a person who is different," Tufano said. "So many countless communities like the LQBTQ+, disabled, those of color, Asian American, and more deal with it in some form constantly and many are affected in the educational system."

In this past year, Tufano has had close encounters with COVID-19 being in the ICU with acute kidney failure and a brain injury. Post-recovery he competed in the virtual Chicago triathlon super sprint, running for the first time, with the same type of orthotics JJC has taught him to build. Tufano took third place.

The OPT department will be certifying Tufano for transtibial (below the knee amputation) and upper extremity prosthetics in May.

"No matter who I am or what has happened to me in the past people at JJC and the OPT lab will not see me differently," Tufano said.
He plans to officially graduate with his Associates Degree in the field of O&P in Dec. 2021.

"This is why I use my voice to promote a program that gives everyone a chance with true inclusion," Tufano said. "Fostered by a school with countless faculty always there to be, not only a guardian, but a mentor, a friend and even a second parent to all who need it."

Tufano is hoping to begin volunteering and helping with Veterans soon after.

"We as students and leaders can help support each other even just by truly listening to one another which is something OPT teaches us every day," Tufano said.
Latest posts by Abbey Dissette
(see all)